Yahoo Maps?
January 27, 2017 #random
The other day, I was having a Slack conversation with a co-worker when he replied "true" in agreement with a statement I was making.  My first instinct was to respond "Double True!" due to the SNL Digital Short: Lazy Sunday.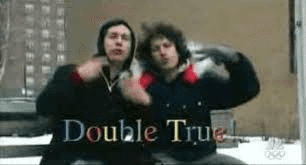 Full lyrics for this December 2005 masterpiece can be found at THE LONELY ISLAND LYRICS - Lazy Sunday, but the relevant lines are these:
(Well let's hit up Yahoo Maps to find the dopest route!)
I prefer MapQuest (that's a good one too)
Google Maps is the best (true dat) DOUBLE TRUE!
I had totally forgotten about Yahoo Maps, which made me wonder what happened to that service. The URL no longer works and Yahoo! Maps - Wikipedia gave me this timeline:
Shutdown
On June 4, 2015, Yahoo! announced that Yahoo! Maps would be shut down, along with Yahoo! Pipes, at the end of the month.

As of 28 April 2016, Yahoo! Maps can still be accessed at https://maps.yahoo.com/b/ 

As of 24 October 2016, Yahoo! Maps is no longer showing any data.

As of 6 November 2016, Yahoo! Maps (maps.yahoo.com) redirects to a Yahoo! Search for the word "maps".
As much as I like to say "double true," my favorite line from Lazy Sunday is this one:
(You can call us Aaron Burr) from the way we're droppin Hamiltons
Interestingly, "Hamiltons" almost had the same fate as Yahoo Maps (see Jack Lew nears decision to keep Hamilton on front of $10 bill, put a woman on the $20 - Apr. 16, 2016 ), but I don't think a hit Broadway musical would have made any difference for Yahoo Maps.
---